News
Moeller Ends Baseball Season Where It Started – No. 1
Posted on 6/11/2023 at 1:52 p.m.
Crusaders Cap Memorable Spring With School's Ninth State Championship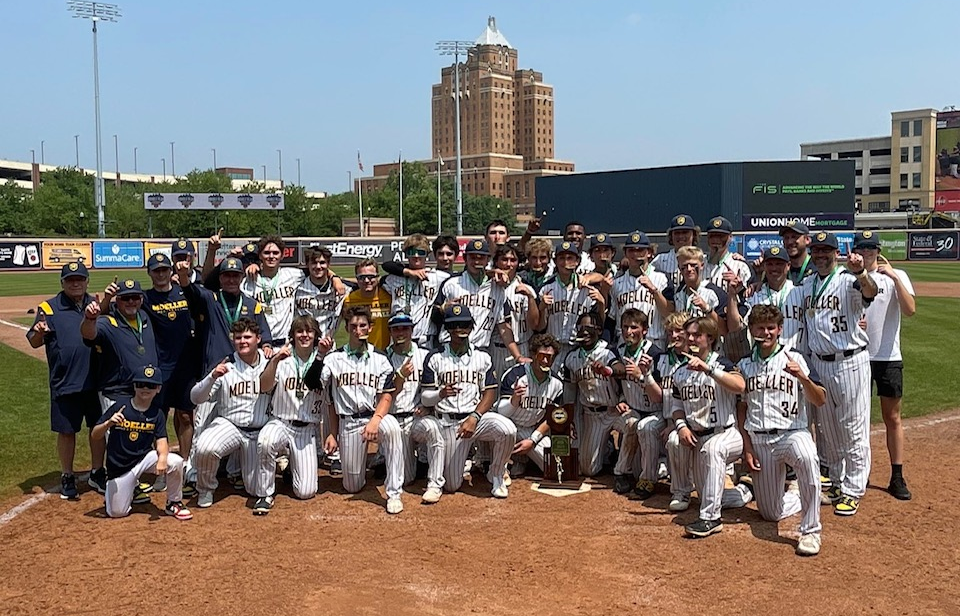 Moeller began the preseason ranked No. 1 in the preseason coaches' poll of Ohio high school baseball teams, later ended the regular season still atop the state according to the coaches, and then early Saturday, proved the rankings were correct as the Crusaders defeated Olentangy Orange, 4-1, in the Division I final of the Ohio High School Athletic Association Baseball State Tournament at Canal Park in Akron.
The victory extended Moeller's winning streak to 17 games,  gave the Crusaders a 31-3 overall record for this memorable season that culminated with the school's ninth state baseball championship.
Moeller last won the state crown in 2015,  when coach Tim Held's team defeated Westerville Central, 16-0, in the title game to finish with an identical 31-3 record.
Moeller is ranked No. 18 nationally by MaxPreps.
Moeller defeated Greater Catholic League South Division rival Elder, 7-6, in the regional final to advance to the state semifinals this past Thursday.  The Crusaders then opened the state tournament that morning with a 2-0 win against Cuyahoga Falls Walsh Jesuit to advance to the title game.
Moeller is now tied with Newark Catholic for the second-most state crowns in OHSAA history, trailing only Elder – which has won 12 big-school state championships, the last coming in 2004-05. The Crusaders' titles are in 1972, 1989, 1993, 2004, 2009, back-to-back in 2012 and 2013, 2015, and now 2023.
The Crusaders jumped out early, when CJ Richard scored on a two-out throwing error to give Moeller a 1-0 lead in the bottom of the first inning.  Moeller increased its lead to 2-0 in the third after senior Toby Hueber stole third and scored on a throwing error.  Hueber, the GCL South Player of the Year, and Richard each went 2-of-4 with two stolen bases.
Orange (22-11) narrowed the deficit to 2-1 with a run in the fourth, but Moeller came back with two more in the fifth on RBI singles by seniors Clay Burdette and Connor Richardson, who went 2-of-2 in the game.
The four runs were more than enough for sophomore right-hander Zion Theophilus, who went the distance, allowing six hits and striking out seven to finish unbeaten at 7-0 for the season.
Moeller coach Tim Held, who is 23 wins away from 400 victories at the Kenwood school, has now won five state championships since 2009.

"An amazing coach," Hueber told WCPO.com's Mike Dyer about Held. "He lets us have a lot of fun. He's obviously got high expectations and he pushes every day. So he's an amazing coach and an amazing guy."
Hueber, a DI all-state selection, helped Moeller advance to the final by going five innings to pick up the win in the semifinal against Walsh Jesuit.  Hueber, one of 13 seniors on this year's team, scattered just three hits and fanned five over five innings in the semifinal, to go to 10-0 on the season.  The victory also set the career victories mark for Hueber, who ended his career with 25 wins.
Elder-Moeller Win Regional Semifinal Games
Posted on 6/1/2023 at 8:36 p.m.
All-GCL South Regional Final With State Tourney Berth Up for Grabs
Elder and Moeller will meet for the fourth time this season Friday, with a regional championship and subsequent berth in the Final Four of the Ohio High School Athletic Association Baseball State Tournament on the line.  First pitch in the Division I, Region 4 final is 5 p.m. t Xavier University's Hayden Field.
The Greater Catholic League South Division rivals posted victories in their regional semifinal games today at XU.  Moeller (28-3), the GCL South champion, erased a 4-3 deficit by scoring seven times in the bottom of the sixth inning to post a 10-4 victory against West Clermont in the first semifinal – extending its winning streak to 14 games.
Elder (23-8) followed Moeller's win with an impressive performance to post a 5-2 victory against Greater Miami Conference champion Mason – which entered the game having won four straight and 11 of its last 12 games.  One of those wins was a 4-0 shutout against Elder on May 10 in Mason.  The Comets finished 17-1 in a deep and talented GMC.
Elder is the last team to defeat Moeller this season, earning a 6-5 win at the Panther Athletic Complex in Price Hill back on April 24.  Moeller won the other two meetings, 11-1 and 7-1, to finish with an 8-1 GCL South record and capture the coveted league title.  Elder is the only Ohio team to beat Moeller this season.
Moeller is the last GCL South team to win state baseball championships.  The Crusaders captured back-to-back DI titles in 2011-12 and 2012-13.
St. Xavier Reaches DI Lacrosse State Final
Posted on 6/01/2023 at 7:45 a.m.
Bombers Rally To Defeat Upper Arlington In State Semifinal Match
A goal by sophomore D.J. Wojciechowski gave St. Xavier a thrilling come-from-behind victory over Upper Arlington in sudden death in a Division I semifinal Wednesday night in the Ohio High School Athletic Association Lacrosse State Tournament at Wittenberg University's Edwards-Mauer Field.
The win earns St. Xavier (18-5) a berth in the DI state final at 7 p.m. Saturday at Historic Crew Stadium in Columbus.  The Bombers advance to meet Dublin Jerome (21-1), which defeated Cleveland St. Ignatius, 16-7, in its state semifinal last night as Ashland University.  St. Xavier avenged a loss to UA in last year's semis and earned its first berth in the final since 2019.
The match between these Ohio lacrosse rivals was close throughout, with UA (20-3) holding a one-goal advantage five different times only to see St. Xavier continue to come back.  The Bombers took their first lead, 6-5, with 3:42 remaining on a goal from sophomore Johnnie Guttman.  But the Golden Bears came right back to score consecutive goals and go ahead, 7-6, with only 1:21 left in the match.
St. Xavier wasn't finished, as junior Brady Bennett took a pass from Guttman and scored with 46 seconds remaining to tie the game, 7-7.    The Bombers held UA without a goal on its possession, and then Wojciechowski scored the second of his two goals on a spinning shot for the game-winner.  Seven of the St. Xavier's eight goals were scored by sophomores, with Luke Sprong also finding the net twice.
Moeller Wins Third Straight State Volleyball Title
Posted on 5/29/2023 at 10:40 a.m.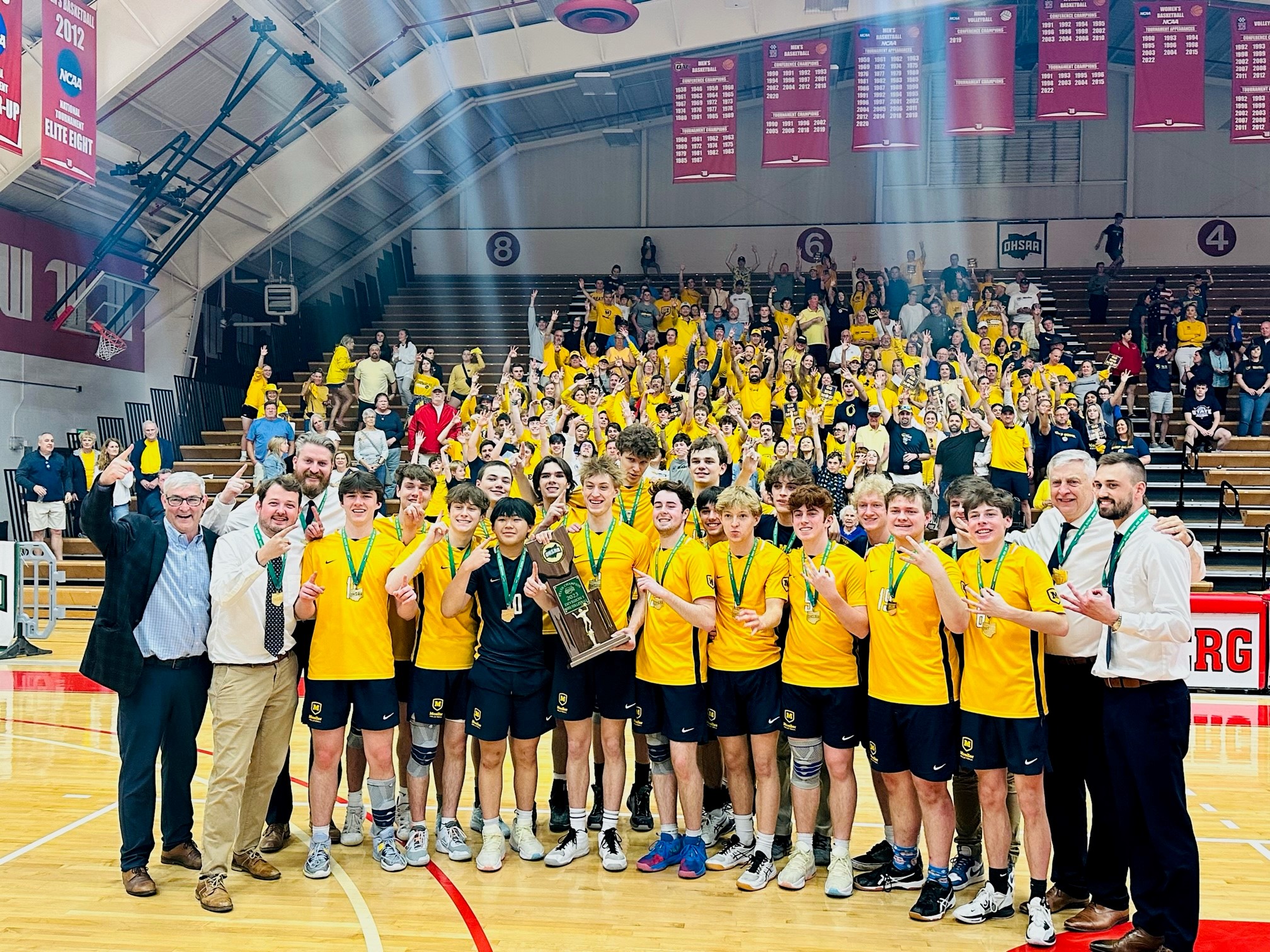 Crusaders Capture First Sanctioned Championship By The OHSAA
After winning the last two state volleyball championships in tournaments under the jurisdiction of the Ohio Boys Scholastic Volleyball Coaches Association (OBSVCA), Moeller made it a three-peat Sunday – winning their third consecutive Division I state title and the first such championship sanctioned by the Ohio High School Athletic Association.
Moeller (23-4), which got past a talented Hudson team that had lost just three sets all season in Saturday's semifinals, needed a full five sets to defeat Olentangy Liberty (23-5) in Sunday's early afternoon championship match at Wittenberg University's Pam Evans Smith Arena in Springfield.
The Crusaders trailed 13-12 in the fifth and decisive set, before senior Brody Threm tied it with a kill to pave the way for coach Lee Meyer's team to score the next two points and emerge with a 19-25, 16-25, 25-23, 25-23, 15-13 win after losing the first two sets.  Senior Will Patterson led Moeller with 21 kills in the state final, with Threm adding 15.
It has been a quite a last four days for Moeller, which earned a spot in the DI regional semifinals in baseball with a victory against Kettering Fairmont on Thursday.  A day later, Moeller got past Greater Catholic League South Division rival St. Xavier, 10-9, in the lacrosse regional final at St. Xavier to earn a berth in this week's DI state semifinals.  The weekend culminated with the Crusaders winning two matches to claim the state volleyball championship.
Moeller also won the GCL South All-Sports Trophy after a strong spring season that saw the Crusaders win league championships in baseball and track & field while finishing second in tennis and volleyball.  Moeller won the league title in football in the fall and finished second in cross county, golf and soccer.  Th Crusaders edged St. Xavier, 70-69, in total points to unseat St. Xavier from winning the trophy again.
The Bombers had won 10 of the last 11 GCL South All-Sports Trophies outright, tying Elder for the prestigious honor in 2019-20.  This year, Elder came in third followed by La Salle in the standings based on descending point values for finishes from first to fourth in the final league standings or tournament in every sport.
St. Xavier Edges Moeller In Regional Lacrosse Final
Posted on 5/28/2023 at 3:00 p.m.
Bombers To Play Upper Arlington In DI State Semifinals This Week
Freshman Spencer Stegbauer's goal with 3:21 remaining snapped a 9-9 tie and gave St. Xavier a 10-9 victory against Greater Catholic League South Division rival Moeller in the Region 4 final of the Ohio High School Athletic Association Lacrosse State Tournament Friday evening at St. Xavier High School's RDI Stadium.
The Bombers' win, which avenged a one-goal defeat to Moeller a month ago, earns a berth in the DI Final Four.  St. Xavier (15-4) will oppose Upper Arlington in the state semifinals at 6 p.m. Wednesday at Wittenberg University in Springfield.  UA defeated Hilliard Davidson, 13-3, in the Region 3 final Friday at Upper Arlington.
St. Xavier beat UA, 14-10, on April 1 in Finneytown.
Cleveland St. Ignatius opposes Dublin Jerome in the other state semifinal,  at 6 p.m. Wednesday at Ashland's Jack Miller Stadium.  The DI final is 7 p.m. Saturday at Historic Cre Stadium in Columbus.
St. Xavier won the DI state lacrosse title in 2017-18, one year after Moeller became the first GCL South team to claim the state crown in the sport in the first season it was officially sanctioned by the OHSAA.  Moeller and St. Xavier beat St. Ignatius by one goal, respectively, in each of the title game matches.
Sophomore Khalif Hocker led St. Xavier against Moeller, scoring five goals in the second period, and adding an assist, while Stegbauer added three goals – including the game-winner- and one assists for the Bombers – who outshot Moeller, 45-24, and claimed 15 of the 23 face offs.
Senior Joe Ginnetti paced Moeller (14-8) with two goals and three assists, while Brennan Hickey added two goals and an assist as the Crusaders jumped out to an early 3-0 lead.   A goal by Ginetti gave Moeller a 4-1 edge early in the second period, but St. Xavier rallied and took a 7-6 halftime lead when Hocker scored one of his two goals in the period.
The match went back and forth in the final two periods, after St. Xavier had taken an 8-6 lead before Moeller rallied to tie it at 8.  St. Xavier took an 89-8 lead on a goal by Johnnie Guttan off a Hocker assist, but Moeller's Alec Weeder knotted the score at 9 with seven minutes remaining in the match and setting the stage for Stegbauer's late heroics.